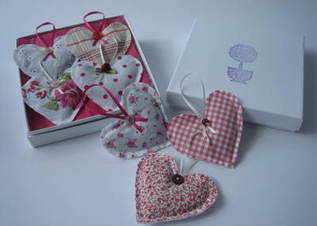 Set of 4 Hanging Hearts
Set of 4 small, handmade Hanging Hearts
Set of 4 handmade, Hampshire lavender filled Hanging Hearts with vintage button detail. Heart size 9 cm x 9 cm (excluding ribbon).
Please note that each box contains a unique selection of hearts so fabrics will vary slightly from those pictured.
Supplied in white ribbed paper covered gift box with lilac tissue paper.