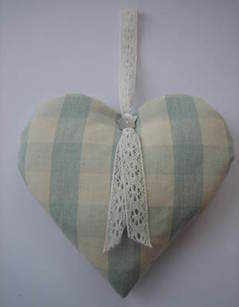 Hampshire Lavender Filled Hanging Heart in Duck Egg Gingham
Fragrant Hampshire Lavender Filled Hanging Heart with Antique Lace Ribbon & Shell Button Detail
Handmade Hampshire Lavender filled Hanging Heart in Duck Egg Gingham (100% cotton) with antique lace ribbon and shell button detail.
Height (excluding ribbon) 21 cm, width 20 cm (approx).
Hearts can be supplied in a Pink Gift Box with Organza Ribbon and Personalised message - please select this option from the product list should you wish your heart to be gift wrapped.