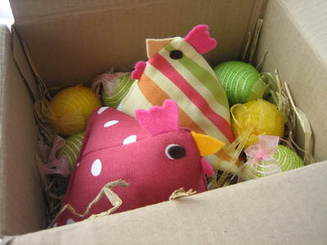 Hens in a Nest Gift Box
Hens in a Nest Gift Box with 6 Easter Decorations
One 'Candy Stripe' and one 'Dotty' hen on a straw 'nest' together with 6 assorted beaded egg decorations or 6 of the painted, metal decorations. A wonderful Easter gift.
Additional decorations can be included in the 'nest box' if required - please order these additional items separately & note to include them in the 'nest box' when completing your order.
Please Note: Purchasing these items as gift boxed set gives a 10%+ saving on the cost of purchasing the items individually
.